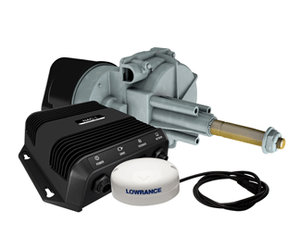 This Item Comes with FAST FREE 1-3 Day Tracked Shipping!!!
Lowrance Outboard Cable-Steer Pilot Pack

Everything you need in one box to fit an autopilot to your outboard motor, the Outboard Pilot lets you focus on fishing activity while keeping the boat on course.
When connected to a Lowrance HDS Gen2 or Gen2 Touch, the Outboard Pilot can steer to a waypoint or along a route, select a turn pattern or simply hold a constant heading.
The Lowrance SmartSteer™ user interface allows you to easily switch between electric-steer, trolling-motor control and outboard motor control directly from your HDS display. And, with your HDS display, you can easily convert trails to routes - so you can retrace a previous track and get your boat back to the dock from your fishing area.


HDS Units require 3.5 Software

Steer your outboard motor to a heading, waypoint, route or cursor, with control from your HDS Gen2 or Gen2 Touch display

Lowrance SmartSteer™ interface provides control of your cable-steered outboard motor, as well as the MotorGuide Xi5 Pinpoint electric-steer trolling motor

"One-touch" route creation from trails

Pre-set turn patterns for more effective fishing/trolling presentations

Recommended for single-outboard setups, on boats that are 30 feet and less, in length

VRF (Virtual Rudder Feedback).simplifies pilot installation eliminating the need for a rudder position sensor

Easy setup.straightforward guide steps you through first-time install

Easy-to-install, plug-and-socket connection with no complex terminal wiring

Supported by Lowrance Advantage Service program

Dash-mount button for one-touch Auto/Standby activation

Steer to Heading, Course or Route

High efficiency, super-quiet 0.8L hydraulic gear pump

Lowrance Outboard Pilot Cable-Steer Pack replaces the manual helm-drive unit

Morse 290, Morse 304411 and Teleflex SSC52 cable compatibility

Helm-1 is only compatible with the NAC-1.Helm-1 includes variable-voltage feedback interface

2 Year Limited Warranty


Package Includes:

NAC-1 Autopilot Computer - 000-11769-001
The brains behind the Lowrance Outboard Pilot system. It contains the steering computer and electronics for the drive unit motor and clutch.

Helm-1 for Outboard Pilot - 000-11771-001
This drive unit replaces your manual helm-drive unit on single cable installations. Compatible with Morse 290, 304411 and Teleflex SSC52 cables. Includes voltage rudder-feedback sensor, and is only compatible with NAC-1.

N2K 4 Way - 000-10996-001
NMEA2000 4-way joiner. Connect four NMEA2000 Micro-C devices to the NMEA2000 Network.

N2KEXT-2RD - 000-0119-88
0.6M (2') NMEA 2000® cable for backbone extension or or drop cable to connect an additional network device

N2KEXT-6RD - 000-0127-53
1.82M (6') NMEA 2000® cable for backbone extension or drop cable to connect an additional network device

N2KEXT-15RD - 000-0119-86
4.55M (15') NMEA 2000® cable for backbone extension or or drop cable to connect an additional network device

TR-120-KIT - 000-0127-52
Set of 1 male and 1 female NMEA 2000® terminators

MICRO-C POWER CABLE ONLY - NO T CONN - 000-12202-001
Mfg. # 000-11749-001