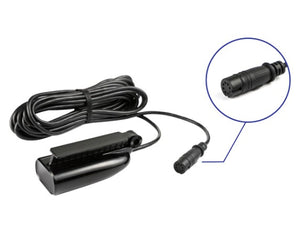 Name
Value
Beam
40 Degrees (Sonar)
Connection Interface
Hook 2 SplitShot Connector
Frequency
200kHz (High CHIRP some models) 455/800kHz
Material
Plastic
Maximum Depth
500 Feet @ 200kHz
300 Feet @ 455/800kHz
Mount Type
Transom Mount
Trolling Motor
Shoot Through
Sonar
Sonar
DownScan
Temperature
Type
Transom Mount
Waterproof
Waterproof
This Item Comes with FAST FREE 1-3 Day Tracked Shipping!!!
SplitShot Skimmer Transom Mount Transducer
SplitShot 2-in-1 Sonar with High CHIRP and DownScan Imaging.
The SplitShot 2-in-1 sonar makes it easier to stay on the fish, delivering the best traditional sonar views and lifelike images of fish-holding structure beneath and beside your boat.
Includes 20' cable.
Mfg. #
 000-14028-001