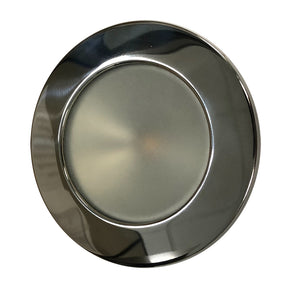 Gen 3 Indoor/Outdoor Recessed 3.5" LED Light - 2700K 85 CRI Dimmable COB LED - Warm White/Polished SS Bezel

Elegant polished stainless, brushed nickel or white trim with frosted glass make this light the perfect choice. Three screw mounting compatible with the most popular models. Digitally dimmable design means you will not need additional circuitry to adjust to just the right output. Warm White, Warm White/Red and Warm White/Blue available. Two or Three wire configurations. Simply reverse polarity to switch between colors or hi/lo. 
Designed with Lunasea's robust electronics and temperature monitoring these lights were designed for minimal interference with electronic equipment. Can be dimmed externally. 
Soft 2700K warm white hi CRI COB LED light enhances the beauty of your surroundings .
Specifications: 
Voltage: 10-40VDC
Power: 4.5W White / 1W Red or Blue
Output:  375 Lumen White  
Color: 2700, 85 CRI 
IP Rating: 65
Hole Depth: 22mm
Specifications:
Bulb Type: LED
Voltage - Input Range (Volts): 10-40v
Housing: Stainless
LED Color: Warm White
Dimming: Yes
Box Dimensions: 2"H x 7"W x 8"L WT: 0.4 lbs
UPC: 894953001166
Brochure (pdf)