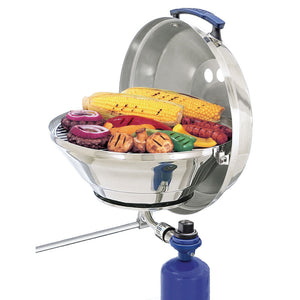 Marine Kettle® Gas Grill - 15"
This grill was designed for economy without sacrificing functionality.  Made in the U.S.A. of 18-8 mirror polished stainless steel, it will give you the safety, durability and performance required of a marine grill.  It uses our time-tested, highly efficient radiant plate heat distribution system in conjunction with convection heating technology to achieve hot, even temperatures while using a minimum of fuel.  It comes to temperature very quickly and is great for searing steaks or just grilling up some burgers and dogs. 
The patented swiveling turbo venturi tube allows you to adjust the control valve inboard, outboard, left or right wherever it is most convenient to you.  The turbo venturi tube in combination with the newly designed burner virtually eliminates blow-outs.  The control valve/regulator uses standard, disposable 1lb. propane fuel canisters, allows for quick, safe fuel canister exchanges or easily adapt to existing on-board LPG (propane) or CNG (natural gas) fuel systems. 
The grill quickly disassembles without tools for easy clean-up.  Magma offers the largest section of mounting options (sold separately) to customize the grill for your needs, fuel canister (not included). 
*Mount not included 
Features:
Heat resistant "Stay Cool" plastic handle with air cooled supports
Perfectly balanced hinged lid, won't slam shut
Adjustable height cooking grill and variable draft door assembly, for superior temperature control
Swiveling, windproof turbo venturi and control valve design virtually eliminates blow-outs and places the fuel and valve where it is convenient and allows safe and easy fuel changes
Combination "easy-to-clean" grease catch pan/wind baffle keeps the wind gusts out while keeping the flames and grease in
Uses standard, disposable 1lb propane canisters or adapts to on-board LPG (propane) or CNG (natural gas) systems
Technical Specifications:
Material - 18-8 mirror polished marine grade Stainless Steel
Mounting Application - Marine Kettle® Mounts
Primary Cooking Grate - 13" (33 cm) 
Total Cooking Area - 133" Sq. In. (856 sq. cm)
Dimensions w/valve attached and lid/legs closed (L x W x H) - 14-7/8" x 15-1/8" x 12-1/2" (37.8 x  38.4 x 31.8 cm)
Number of Burners - 1
Burner BTU 10,700
Weight - 7.73 lb (3.51 kg)
Fuel Type - Gas
Fuel Supply - Disposable 1-lb. (450 g) propane canisters or adapts to pre-regulated propane LPG (valve sold separately), or compressed natural gas CNG (valve sold separately) systems.
*Sold as an Individual
Quick Guide (pdf)
Owner's Manual (pdf)