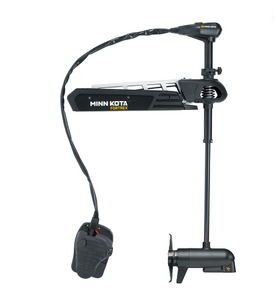 Fortrex
Freshwater Bow Mount

We left the solid, extruded aluminum arm on the new Fortrex™ exposed, so everyone on the water can see what they're up against: the most ruthless mount we've ever unleashed. With fewer moving parts, tighter tolerances and less give, Fortrex is the beefiest, meanest, quietest motor ever. Consider yourself warned.

Mono-Arm Design
Sometimes, the simplest solution is best. In this case, it's a revolution. Fortrex's innovative Mono-Arm Design features an extruded, anodized aluminum, structural beam that operates with no metal-to-metal contact and 75% less torsion. A single hinge point and rear pivot bearing with 20% more surface area deliver less wear, longer life, and quieter operation than traditional motor mounts.

Counter-Tension Stabilizer (CTS)
CTS uses an integrated spring that applies force whether the motor's stowed or deployed. On the water, that translates to a motor with no play, no give, reduced steering torque and silent operation.

Lift-Assist
Fortrex's Lift-Assist design cuts the weight of stow and deploy in half, making it as easy as lifting your SUV tailgate. It features a stainless steel, nitrogen-charged gas spring to get you in and out of the water with ease.

Removable Bowguard 360°
Lifting the motor and bowguard off of the mount is now even easier on Fortrex - just remove a single cap screw. The Removable Bowguard 360°™ also features a dual bearing system that eliminates noise and allows for improved breakaways from any angle.

Illuminated Directional Indicator - Fortrex
The easy-to-read, illuminated directional indicator leaves no doubt about where you're headed

Foot Pedal
Get wired to the water with our ultra-responsive foot pedal. Its new design is easier to operate, with more room for your foot and more exact speed =control.

Digital Maximizer
Digital Maximizer™ controls and optimizes power to extend battery life and reduce damaging heat. You'll stay on the water up to five times longer on a single charge.

Weedless Wedge 2 Prop
Push weeds away and take on the thick stuff without battery-draining chopping and hacking. Weedless Wedge™ 2 features swept-back, flared blades for unrelenting, reliable prop performance.

Indestructible Composite Shaft - Guaranteed For Life!
Pound for pound, our composite shaft is stronger than steel. It flexes on impact and won't break, kink or corrode. That's why we're confident enough to make it the only trolling motor shaft that's guaranteed for life.

Cool, Quiet Power
Nothing runs cooler or more quietly than a Minn Kota. Our extra large windings and commutators dissipate heat, resulting in cooler operation, extended battery power, and longer motor life. And our unique bearing system reduces friction to cut fish-spooking noise. So quiet, they'll never hear you coming.
Universal Sonar 2
Universal Sonar 2 has an integrated, concealed transducer that provides interference-free sonar performance, water temperature sensing, and dual beam technology for an expanded view and greater bottom detail. It's compatible with most major fishfinders
Two-Year Warranty
This motor is backed up with Minn Kota's two-year warranty
Specifications
Control: Cable Steer Foot Pedal
Volts: 24
Max. Thrust: 80 lbs
Shaft Length: 45"
Universal Sonar 2
Speed Control: Variable
Max. Amp Draw: 56
Prop: Weedless Wedge 2 (MKP-33)