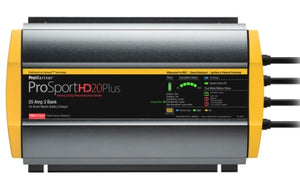 | Name | Value |
| --- | --- |
| Amperage | 20 Amps |
| Multi Bank Chargers | 3 Banks |
| Type | Chargers |
| Voltage | 12/24/36V DC |
| Warranty Details | Three Years |
This Item Comes with FAST FREE 1-3 Day Tracked Shipping!!!
PROMARINER ProSportHD Generation 4 Heavy-Duty Marine Battery Charger
Boasting a new tri-surface heatsink design. This new heavy-duty lightweight design delivers significantly faster charging through optimal cooling, while delivering true rated amp output during charge mode.
ProSportHD's enhanced microprocessor and software provides new digital features including: fuel gauge style Charge Completion Monitor, Charge Mode, individual Fault indicators and three digitally selectable performance charge profiles for Flooded (leadacid), AGM and GEL batteries.
HP AGM profile on ProSportHD 20 Dual only. Fully automatic 5-stage charging enhances battery performance while extending battery life. System Check OK and Battery Status indicators provide real time installation and battery fault status.
Designed for use in harsh environments with our industrial grade jacketed DC and AC power cables which include new molded strain reliefs and wire splitters.
Features:
ProMar Digital Technology: Microprocessor and software controlled charging technology for fast, precise charging
Distributed-On-Demand™ Technology: 100% of all available charging amps are utilized by distributing unused charging amps to any one or combination of all batteries as needed
Heavy Duty Tri-Surface Extruded Heat Sink Design:

 

Upper, lower and rear facing heat sink design for optimal cooling while delivering true rated constant current charging amps during its two charge mode
Expanded LED Display with Completion Status Gauge:

 

LED fuel gauge style completion status. Four color multi-stage mode LED status bar. Multi-stage Charge Mode, System Check OK, individual Battery Status and Battery Type indication
Lightweight Design:

 

Up to 40% lighter compared to an epoxy filled charger
Mfg. # 44021