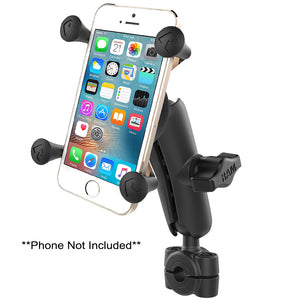 RAM® Torque™ 3/8" - 5/8" Diameter Mini Rail Base with 1" Ball, Medium Arm and X-Grip® for Phones
Take your mobile entertainment on the road with the new RAM® Torque™ handlebar and rail mounting base. We've paired a B-sized 1" rubber ball base that accommodates bars 3/8" - 5/8" in diameter with a B-sized standard length arm and the dynamic X-Grip® for phones. The mount utilizes nylon-insert locknuts to prevent loosening in high vibration environments. This low-profile mount is the perfect way to secure your personal electronics and small accessories in any high-vibration environment.

The included X-Grip® cradle has a clean and clever four leg design that sports great holding power without hiding your phone behind foam pads and plastic. The spring loaded X-Grip® cradle expands and contracts, allowing for a perfect custom fit of your cell phone. The perfect complement to the modern sleek interior of today's vehicles, the RAM X-Grip® is the cell phone cradle evolved. The X-Grip® includes a device tether recommended for outdoor applications. The cradle is compatible with handheld devices that will fit the dimensions listed below. It is important to verify the dimensions of your handheld device with a case/sleeve/skin when determining the overall size.
Mounting Base Dimensions:
Accommodates rails 3/8" to 5/8" in diameter
Cradle Dimensions
Minimum Width = 1.875" (Minimum Height = 4.25")
Maximum Width = 3.25" (Minimum Height = 2.25")
Depth = 0.875"
Features:
1. Rustproof
2. High strength composite and stainless steel construction
3. Spring loaded cradle expands and contracts for perfect fit of your device
4. Rubber coated tips will hold device firm and stable
5. Socket technology allows for multiple adjustment angles and articulation of device
6. Includes Tether for open cockpit and extreme environments
7. Lifetime warranty
8. Made in U.S.A.

Material:
Powder Coated Marine Grade Aluminum, Marine Grade Stainless Steel Components & High Strength Composite

Ball Size:
1" Rubber Ball "B" Size