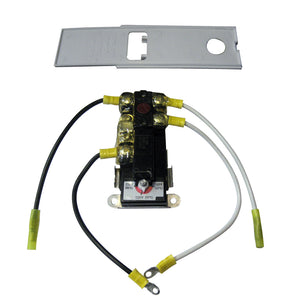 Water Heater Thermostat Assembly
Raritan's WH16 Water Head Thermostat is located behind the rectangular electrical panel. 
Raritan offers an adjustment on their thermostats to allow the user to set the water to a higher temperature or if preferred a lower temperature. Use caution if setting the thermostat above 120 degrees as scalding can easily occur. The job of the thermostat is to allow power to the element and to open and close as necessary to keep the water hot inside the tank.
Specifications:
Type: Parts
Box Dimensions: 1"H x 7"W x 8"L WT: 0.45 lbs
UPC: 085462011245