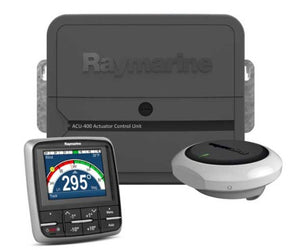 Name
Value
Best Use
Sailboats
Connection Interface
SeaTalkng
NMEA 2000
Display Color
Color
Display Type
Backlit LCD
Maximum Boat Displacement
77000 Pounds
Type
Autopilot Package No Drive Unit
Warranty Details
Two Years
Three Years (with Product Registration)
 **Note** Items may vary upon availability, shipping may be an additional 7 days, shipping is typically 1-3 days with tracked shipping. This Item comes with FAST FREE shipping.
An autopilot that needs little or no calibration and it comes with advanced aerospace technology!
Raymarine combines its autopilot expertise with aerospace guidance technology to eliminate the need for a setup compass swing or calibration and the EV-400 doesn't need to be adjusted to the boat in which it is installed. This innovative breakthrough in autopilot intelligence uses Evolution AiTM control algorithms that give the autopilot the ability to perceive its environment and instantly calculate and evolve steering commands for maximum performance. This results in precise course-keeping regardless of vessel speed or sea conditions.
The EV-400 Sail Autopilot is designed for large sailboats and is compatible with Type 2 and Type 3 Raymarine hydraulic, linear and rotary mechanical drives. You purchase drive units separately depending on your boat's displacement and steering type. The system is easy to install and it works with the p70 control head. Setting up the EV-400 takes mere seconds. Select the large sailboat followed by the drive type—hydraulic or mechanical—and finally choose the performance level. The p70 offers one- and 10-degree course change push buttons for ease of use.
Key Features:
EV Sensor core:

 

The heart of the evolution system is the ultra-compact EV Sensor core, a nine-axis heading sensor and full Function course computer that monitors pitch, yaw, roll and heading.
Compact Size: Because it's about the same size as a typical marine GPS sensor, the EV sensor core can be bracket- or flush-mounted horizontally. It's IPX6 water-resistant so the sensor can be installed above or below deck.
SeaTalkng

 

cabling:

 

This convenient feature provides a single power and data connection to the SeaTalkng

 

bus and the Actuator Control Unit (ACU) that attaches to the same bus to provide power and signal to a Raymarine hydraulic or mechanical autopilot system.
AutomagicTM: No lengthy calibration procedures or compass calibration are required to set up. This is true plug and play installation.
Super Accurate: Delivers accuracy to within 2 degrees in all conditions.
Automatically Adjusts: Auto compensation for on board magnetic fields and reliable heading accuracy in northern and southern extremes.
Plays Well With Others: Fast, reliable heading data for MARPA, radar overlay and heading modes on Raymarine aSeries, cSeries, eSeries or gS Series multifunction displays.
Warranty: Three years (with product registration)
What's in the box:
EV1 Sensor
ACU-400 Autopilot Control Unit
p70 Control head
Evolution Cabling Kit
Specifications:
Boat Type:

 

Large sailboats with mechanical steering
Boat Displacement:

 

Up to 77,000 lbs.
Drive Type:

 

Type 2 Linear Drive Short (Model 553651, 33,000-lb. boat displacement, 1,050 lb. thrust) Type 2 Linear Drive Long (Model 352039, 44,000-lb. boat displacement, 1,050-lb. thrust, Type 2 Rotary Drive (Model 6418354, 44,000-lb. boat displacement, 34nm output torque) or Type 3 Hydraulic Linear Drive (Model 6418339, 77,000-lb. displacement, 2,640-lb. thrust). Drives are sold separately.
Controls:

 

p70 Control Head
Draw:

 

EV1 30mA; ACU-400 30A max. continuous (12-24V)
Data Interface:

 

SeaTalkng, NMEA2000
EV1/EV2 Sensor
Diameter:

 

5 1/2"
Depth including mounting enclosure:

 

1 1/3"
Depth including wall bracket:

 

3 3/4"
Weight:

 

.64 lbs.
Nominal supply voltage:

 

12 V (powered by SeaTalkng

 

system)
Operating voltage range:8 V to 15.6 V DC
Power consumption

 

(taken from SeaTalkng

 system)

:

 

30 mA
SeaTalkng

 

LEN (Load Equivalency Number):

 

1
Sensors:

 

Three-axis accelerometer; Three-axis digital compass; 3-axis gyro digital angular rate sensor
Data connections:

 

SeaTalkng
Operating temperature: -4˚F to +131˚F
Storage temperature: -22 ˚F to + 158˚F
Relative humidity: max 93%
Waterproof rating:

 

IPX6
EMC Compliance:

 

Europe 2004/108/EC; Australia and New Zealand
Mfg. #
 T70161