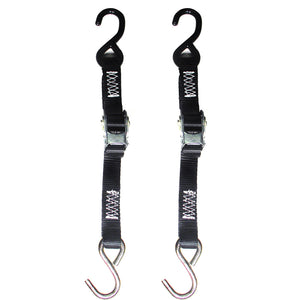 Quick Tite Trailer Tie-Down - 1" x 4' - Pair

This 1" x 4' strong small boat transom tie-down features an innovative buckle with smooth roller action. Ideal for boats 17' or smaller. This heavy duty quick tite transom tie-down is constructed with a high carbon steel buckle. It features American made heavy vinyl coated top hook, zinc plated bottom hook, and heavy duty polypropylene webbing.
Specifications:
Length (Feet): 4'
Diameter (Inches): 1"