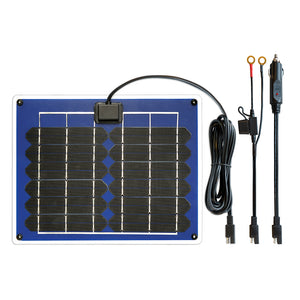 10W Battery Maintainer Portable SunCharger
The SC-10 SunCharger maintains the charge in any 12V battery using energy from the sun. Panel connects through 12V power plug or directly to battery with ring terminals. 
Perfect for battery maintenance when your car, boat, truck, ATV or RV is in storage.
Features:
Maximum efficiency
Prevents back flow of current from the battery to the panel
Direct charging – no need for additional Charge Controller
Semi-flexible panel construction
Rugged, weather-proof design
10' cable attached
1' cable with 12V power plug 
1' cable with ring terminals for battery
Specifications:
Weight - 2.2 (lbs)
Weight - 0.99 (kg)
Dimensions - 12 x 15 x 0.53 (in)
Dimensions - 30.5 x 38.1 x 1.35 (cm)
Warranty - 2 Years (Canada/US)
Applications:
Recreational Vehicles
Boats
ATVs
Cars
Trucks

WARNING: This product can expose you to chemicals which are known to the State of California to cause cancer, birth defects or other reproductive harm. For more information go to P65Warnings.ca.gov.
Owner's Manual (pdf)
Brochure (pdf)