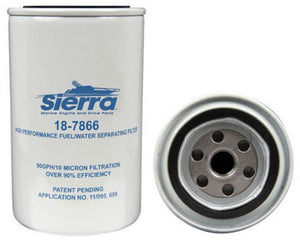 Industry leading canister fuel filters for outboard and inboard engines
High-performance fuel injected engines require the ultimate fuel filtration, water separation and  maximum fuel flow. Sierra's new filter elements deliver all three of these critical performance factors. 7900-Series 10 micron filters eliminate harmful contaminants at over 90% efficiency, while removing over 99% of emulsified water. They're engineered for today's sterndrives and inboards, along with 2-cycle and 4-cycle outboards.
Ethanol-blended fuels increase the chances of water in fuel tanks, resulting in premature wear, poor performance and component damage. Contaminants of over 10 micron size also can cause severe damage with the close tolerances of modern fuel pumps and injectors. That is why a high efficiency water separating filter is so important. Sierra 10 micron filters were independently tested to JIS, SAE J1839/J905 and ISO 4548-12 standards.
Key Features
Remove 99% of emulsified water from fuel
Designed to be an exact fit and specifications as OEM canister filters
90% efficient at removing particulate contamination
Maintains fuel flow while filtering harmful water and debris
18-7866 (pat. pend) is approved for use with Yamaha HPDI engines
Specifications
Application:

 

Gasoline
Filtration:

 

10 Micron