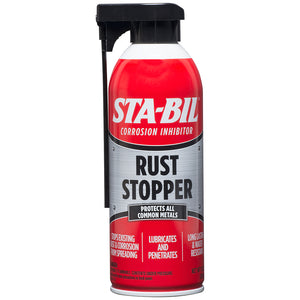 Rust Stopper - 12oz
STA-BIL® Rust Stopper is an aerosol spray that delivers a protective coating for exposed metals, preventing rust and corrosion. Untreated and treated metals can rust within weeks of exposure. STA-BIL® Rust Stopper prevents rust and corrosion by protecting metal surfaces with a long-lasting barrier while maintaining joint and pivot points to move freely. Use anywhere metal needs to be protected from rust and corrosion.
 Prevents rust and corrosion – Fights the formation of rust and corrosion on exposed metal surfaces
 Long Lasting Protection – Leaves a film coating on metal surfaces that is proven to withstand the test of various weather conditions
 Water Resistant – Specialized formula prevents normal water erosion and keeps the protected surface from developing water stream markings resulting in uneven corrosion.
 Lubricates and Penetrates – Use to lubricate parts and tools to stop squeaks and sticking
 Stops Existing Rust – Once rust is present, our innovative formulation stops rust in its tracks while offering a protective coating in its place.
DIRECTIONS:
Shake Well before using. Apply two to three inches away from the surface (if possible) and swipe back and forth to apply an even coat on the surface of the metal.
Removal: High pressure, cold water pressure wash (1,000-3,000 psi) is recommended. A standard, industrial strength pressure washer will suffice. Can also be removed by warm water detergent wash or with a commercial-grade biodegradable cleaner.
Features:
Prevents rust and corrosion on interior and exterior metal surfaces
Corrosion inhibitor with long lasting protection preventing future rust
Water resistant formula prevents normal water erosion
Lubricates and penetrates to stop squeaks and sticking
Stops existing rust in its tracks
Made in the U.S.A.
Specifications:
Type: Hard Water
Box Dimensions: 3"H x 3"W x 8"L WT: 1.05 lbs
UPC: 073905220033