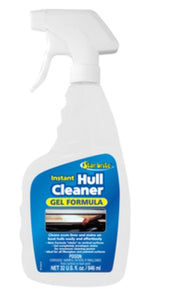 Name
Value
Best Use
Rust Stains
Dirt
Salt Spray
Droppings
Fish Blood
Capacity
32 Ounces
Features
Biodegradable
This Item Comes With FAST FREE 1-3 Day Tracked Shipping on Orders $50 or more!!!
Envelope stains for maximum cleaning power.
Safe, easy to use gel formula sticks where applied and clings to the surface for maximum cleaning effectiveness. Covers stains, then penetrates and dissolves them. Formulated to remove tough stains, including rust, dried fish blood and leaf stains. Effective on all fiberglass and painted surfaces and ideal for vertical surfaces. Does not contain harmful acids.
Key Features 
Cleans scum lines and stains on boat hulls easily and effortlessly
Safe-For-Use on fiberglass and painted surfaces
No rubbing or scrubbing
Gel formula "sticks" to vertical surfaces
Note: It is recommended that  you wear protective gloves when using this product.
Mfg. #
 096132