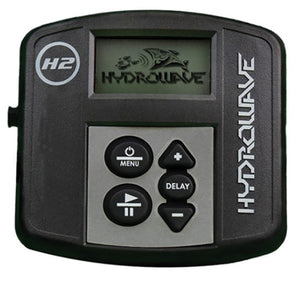 **This Item Ships From Vendor Direct**
HydroWave H2 System Catfish Edition
The HydroWave H2 Catfish Edition builds on the success of the original HydroWave and now offers several key new upgrades.
Now featuring 9 sound patterns for added versatility, the new HydroWave H2 Catfish Edition also now offers five pre-programmed delay options ranging from 15 to 120 seconds. A new, larger 2.5" LCD screen makes operation even easier, and the H2 also features a new, sleek look. Even easier to use and install, the new HydroWave H2 Catfish Edition also features an easy access expansion port for additional sounds and a combined speaker, power cable plug-in.
An Electronic Feeding Stimulator based on the reactive senses of catfish and other predatory fish, the HydroWave H2 Catfish Edition delivers the latest in patented, sound-emitting technology, effectively imitating the audible underwater sounds of bait fish and fish-feeding activities. Research has proven these sounds stimulate feeding impulses in game fish.
The HydroWave H2 Catfish Edition emits Tactile Sound Transmissions with finely tuned amplifiers. They are different from ordinary sounds because they are the sounds and vibrations that you can actually feel. Tactile sounds are what fish respond to. The unit emits sound waves that predatory fish feel, hear and sense as natural bait fish activities - to "ignite a feeding frenzy."
Biologists have long known fish hear and sense prey through a complex system that includes sound, vibration and pressure waves. The presence of bait along with other feeding fish is what elicits a response, and that is not triggered by sound alone. You must have all the ingredients – pressure, vibration and sound – combined in the right frequency to stimulate a feeding response.
All of the sounds and sound loops come programmed into the unit's software. There is no loading of programs and/or sounds required. Operation is truly a pick and play procedure.
The actual HydroWave H2 Catfish Edition unit features a durable injection-molded housing that is 100-percent water-resistant. Extensive testing was conducted to ensure the housing and electrical components would withstand the constant pounding of rough boating conditions
The HydroWave H2 Catfish Edition speaker mounts on the underside of the trolling motor's lower unit, fitting all models of trolling motors (zip ties included), also offered is a optional transom mount for use with auto deploy trolling motors or if you have no trolling motor at all (transom mount available through HydroWave). The speaker is multi-directional so it doesn't matter which way the trolling motor is pointed or if the unit is mounted on the transom of the boat. When mounting on the trolling motor the speaker snugs up smoothly against the unit for a perfect, hydrodynamic fit. Operates on a 12-volt power supply.
Additional Features:
9 sound patterns
5 pre-programmed delay options (15/30/45/60/120 seconds)
16-bit CD quality sound
 2.5 inch Liquid Crystal Display
Easy access expansion port for additional sounds
Sleek look
Combined speaker, power cable plug-in
What's in the Box:
HydroWave H2 Catfish Edition Unit
6 foot Power Cable
Omni-Directional Speaker with 14 foot Cable
Unit Mounting Bracket
18 inch Zip Tie (Qty. 2)
8 inch Zip Tie (Qty. 6)
User Guide Including Warranty
Sounds on the Catfish H2:
1)     Shad Passive
2)     Shad Frenzy
3)     Shad Schooling
4)     Skip Jack/Herring Passive
5)     Skip Jack/Herring Frenzy
6)     Skip Jack/Herring Schooling
7)     Bream/Sunfish Passive
8)     Bream/Sunfish Schooling
9)     Bream/Sunfish Frenzy