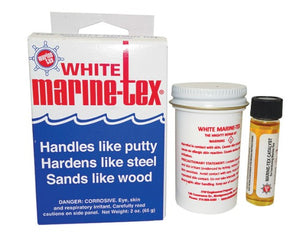 Name
Value
Best Use
Bonds to Aluminum
PVC
Fiberglass
Most Plastics
Metals
Glass
Cement
Hard/Soft Woods
Repair Kit for Chips, Leaks, Cracks
Capacity
2 or 14 Ounces
Color
White
Cure Time
12 Hours (Pot Life: 1/2 Hour)
Type
Two-Part Epoxy Putty
This Item Comes with FAST FREE 1-5 Day Ground Shipping on Orders $50 or More!!! ** This product must be shipped ground due to hazardous shipping!!!**
Versatile epoxy repair product for a wide variety of repairs
Marine-Tex is a heavy-duty structural epoxy that should be part of every boat owner's arsenal of repair essentials. Have an aluminum, fiberglass or wooden boat? With Marine-Tex, you can repair a damaged hull, reinstall loose or stripped fasteners, permanently bond dissimilar metals without galvanic corrosion, fix leaks in fuel tanks, water tanks (it's not rated for potable water repairs), piping and engine blocks, plus fill gouges in wood, metal, fiberglass and gelcoat. The repaired areas are actually stronger than before they were damaged! Marine-Tex is also an excellent choice for repairing problem areas located below the waterline.
This high-strength compound is designed to fill, bond and rebuild wood, fiberglass, ceramic, glass, metal, masonry and even many plastics. The harsh demands of marine and industrial environments are no match for Marine-Tex, and once you discover how easy it is to make repairs, you'll probably find a lot more uses for it around your home, your vehicles and a wide range of hobbies. Handles like putty. Hardens like steel. Sands like wood.
Since it has a creamy paste consistency, you can apply Marine-Tex on vertical or horizontal surfaces, easily fill gaps, and even shape it to rebuild damaged components. Waterproof repairs can be made with fiberglass tape or cloth to bridge holes and reinforce structural repairs as needed. This simple two-part epoxy repair kit can make emergency or permanent repairs to machinery and equipment so you can stay on the water and out of the shop. Marine-Tex can be sanded or ground to shape, tapped and drilled, and finished with most common paints and coatings. Plus, it is resistant to water, gasoline, diesel and many chemicals like common acids, alkalies and hydrocarbons.
Color Choices
Gray is recommended for machinery repairs
White can be tinted with coloring agents for fiberglass and wood applications
Coverage
2oz. kit: 17 square inches at 1/8" thick
14oz. kit: 124 square inches at 1/8" thick
Maximum applied thickness: 1 1/2"
Consistency
When mixed, Marine-Tex is a thick, creamy, no-sag putty that is easily applied to most surfaces.
Pot Life (working time)
Marine-Tex is workable for 30 minutes at 72°F if mixed and spread thin across mixing board. (A lump of material, or higher temperatures, may generate a 15- to 20-minute working time due to the heat the epoxy creates within itself.)
Cure Time
The cure time is 24 hours at a constant temperature of 72°F. Lower temperatures will create longer cure times. It is not recommended to apply the product in temperatures below 55°F. Epoxies need heat in order to cure. If your application temperature is not at least 60°F you must apply heat to the area before, during and after the application in order for it to cure. Travaco recommends you place a shop lamp approximately 12" to 18" in front of the application. The lamp will provide heat at a constant rate so that the material's temperature is always constant. Do not apply a heat gun or hair dryer to the area, these types of heat will heat the area too much.
Mixing Ratio
Mix 5 parts epoxy resin to 1 part hardener by volume. (When mixing by weight, the ratio is 6.3 grams of resin to 1 gram of hardener.) Excess hardener will not accelerate cure time and it can reduce the strength of the cured epoxy. Mix the properly proportioned components with a putty stick or hard plastic squeegee on a broad flat surface, wood, cardboard or plastic. Mix only enough for 15 or 20 minutes of nominal working time. After components are thoroughly mixed, spread your mixture into a long thin line to ensure a streak-free consistency and to provide you with maximum working time. Near the end of its working time, the mixture will become very warm and should be discarded.
Mixing Hints
Before starting your project, store Marine-Tex at 70°F for ease of mixing and application.
The temperature of the work area must be at least 55°F and this minimum temperature must be maintained for 24 hours while the epoxy cures.
Do not use thinner with Marine-Tex. It will change the physical properties of the epoxy.
Work in a well-ventilated area and avoid contact with skin and eyes.
Wear rubber or vinyl gloves and eye protection.
Wash hands immediately after use.
Surface Preparation
This is the key to epoxy adhesion. Remove all contaminants (dirt, oil, grease) with acetone or lacquer thinner. Sand area, then remove grit to improve adhesion.
Bonds/Adheres
Fiberglass
Hard/Soft Wood
Metal
Masonry
Plastics
PVC
Glass
Ceramic
Does Not Bond/Adhere
Plastics like polyethylene and polypropylene
Unclean, oily, greasy or otherwise contaminated surface
Specifications
Compressive Strength*: Gray is 13,000psi, White is 8,700psi
Adhesion Shear Strength*: Gray is 1,800psi, White is 2,300psi
Tensile Strength*: Both White and Gray are 4,000psi
Working Temperature Range: -40° to 250°F
Maximum Temperature Rating: Spikes up to 325°F
             *All strengths are dependent upon make-up of substrate and surface preparation.