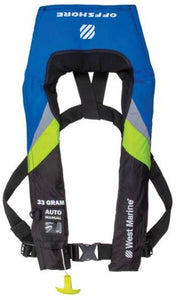 Name
Value
Best Use
Offshore
Day Sailing
Closure Type
Buckles
Color
Blue
Hardware
Plastic buckles
Material
Nylon
Neoprene
Size
Adult-Chest Size 30" -65"
Type
Automatically Inflatable
Warranty
One Year
With Harness
Without harness
USCG Type
Type 2 Performance in Automatic Mode; Type 3 Performance in Manual
This Item Comes with FAST FREE 1-3 Day Tracked Shipping!!!
WEST MARINE All Clear® Offshore Inflatable Life Jacket
The West Marine A/M-33 ALL CLEAR® Automatic/Manual Inflatable Life Jacket is lightweight, low profile and the perfect choice for boating and paddling activities. A key feature is that this inflatable life jacket can be converted to Manual Only Inflataion for times when you want the convenience of paddling or kayak fishing where there is a good chance you may get wet or could end up in the water. If this happens, you pull the inflation cord so the vest will inflate and keep you safely floating when you are immersed in the water.
The all clear viewing window offers an at-a-glance look to make sure the life jacket is properly armed and ready to use. GREEN: Good to go.  RED: Need to re-arm.  

Inflatable life jackets can be reused after each inflation.  Always read your Owner's Manual for the proper way to initially arm your life jacket with the CO2 cartridge, and how to re-arm it after it has been inflated. U.S. Coast Guard approved Inflatable Life Jacket Personal Flotation Device (PFD).
Features:
U.S. Coast Guard Approved Inflatable Life Jacket - Automatic Inflation; Extended sizing fits up to a 65" chest
Easily convertible from automatic/manual inflation to MANUAL ONLY inflation
Front buckle closure for a low profile, secure fit.  Wide neoprene neck for additional comfort
Reflective on front for greater visibility
Secure Pull inflation handle clips to life jacket to prevent snag hazards
Mfg. #
 13260650000421