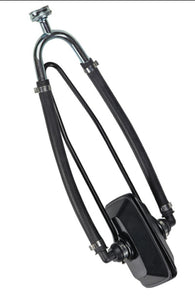 Dual-Feed Professional Outboard Engine Flusher
Name
Value
Best Use
Engine Flushing
Winterizing
Compatibility
Outboards
Sterndrives
Type
Outboard Flushers
This Item comes with 1-3 Day Tracked FAST FREE Shipping. 
Extend engine life by flushing after saltwater use.
When left in the cooling system, saltwater can cause corrosion that can lead to expensive repairs and possible engine failure; flushing the engine with freshwater helps to combat this corrosion.
Our outboard motor flusher provides a way for boaters to connect their outboard or inboard/outboard to a freshwater source to run the engine to effectively flush out saltwater and silt. The universal rectangular cups are held over the engine's intake by a spring loaded clamp and supplied freshwater from a single garden hose. The outboard motor flusher can also be used to perform tune-ups and other maintenance conveniently in your driveway or shop. Flush your engine's cooling system and keep corrosion at bay with a West Marine outboard motor flusher.
Key Features
Removes corrosive saltwater and silt from outboard and inboard/outboard engine cooling systems
Ideal for flushing engines after saltwater use.
Rectangular cups deliver freshwater from a garden hose and are held in place by a spring clamp
Allows routine maintenance or tune-ups to be performed on dry land
Can be used with inline mixers to deliver salt removal products for a more thorough flushing