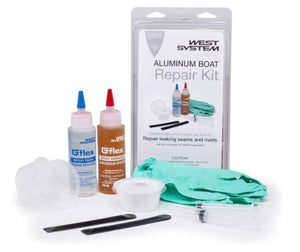 Name
Value
Color
Clear Amber
Best Use
For Aluminum Boat Repairs
Kit Contains Epoxy
Hardener
Mixing Components
Syringes and Fillers for G/flex 650
Capacity
8 Ounces
Cure Time
7 to 10 Hours (Working time: 45 Minutes)
Type
Two-Part Epoxy Resin
This Item Comes with Fast Free 1-3 Day Tracked Shipping on Orders $50 or More!!!
Repair thin gauged riveted aluminum boats.
Riveted aluminum fishing boats are affordable, tough, practical, and easy to maintain; they are not easy to repair. Until now. West System G/flex tenaciously sticks to aluminum and makes it possible to successfully repair  riveted aluminum boats.
To make repairing your aluminum boat easier, West System offers an Aluminum Boat Repair Kit that includes many of the materials needed for small to medium sized repairs. The kit contains G/flex epoxy and hardener, 406 colloidal silica (filler), application syringes, reusable mixing sticks, protective gloves and step by step instructions to guide you through the repair. You will need normal household tools such a wire brush, propane torch (or other heat source), denatured alcohol and a marker. Repair your riveted aluminum boat and get back on the water using West System's G/flex Aluminum Boat Repair Kit.
Key Features
G-Flex based system has excellent bonding properties to aluminum
Detailed instruction sheet offers step by step guidance for repair holes, cracks and sealing rivets
Kit includes materials required to complete small to medium repairs (you will have to supply tools)
Packaging reseals to allow easy storage for next repair
Mfg. #
 650-K